Last month, when I published a list of
Top 100 Libertarian Blogs and Websites
, I wrote: "This list will be subject to revision from time to time, and I will announce any revisions in an update on this blog. The best way to stay up to date is to
subscribe
."
Here's your update- As I continued to do research, receive e-mails, and take comments, I decided to make a couple revisions. I removed "the Glenns" (Glenn Beck and Glenn Reynolds) and the Birch Society, replacing them with more thorough-going
libertarian
bloggers like Megan McArdle and Will Wilkinson of the Cato Institute. Thanks for all your feedback.
Also, I noticed that one blogger on the list (Thomas at
Light of Liberty
) had made a badge for his sidebar. If you made the list and would like to include a badge on
your
sidebar (or if you simply want to promote the list), you can use the graphic below. Thanks for the idea, Thomas.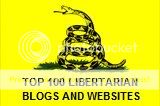 If you aren't very web-savvy, you can simply copy and paste this code into the correct place on your web page: